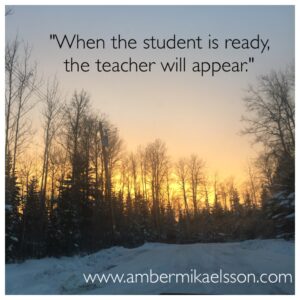 "When the student is ready, the teacher will appear."
There seems to be a bit of confusion as to where the above quote originated but it is most often attributed to Buddha. It's one of those sayings that has always stuck with me, and I've seen it play out many different ways in my own life.
With the invention of the Internet our giant world became much smaller allowing ideas (and the people attached to them) to be ready for connection almost as fast as we can think of them. If you are looking to learn, this is an excellent time to be alive. It is an especially exciting time to be alive and passionate about women's health and wellness.
Personally and professionally, 2015 was a year of seeking connection, teachers and experience. It was about taking risks, networking, and trying new things. For the first time in my adult life, 2015 was not a year I spent a great deal of time mourning my reflection in my mirror. I wasn't hyper focused on the way my body looked but instead marvelled at the things it can do now both inside and out of my weight room.
Freeing myself from all that time spent obsessing about the things that were wrong with my body gave me time to focus on making my whole life better. I'm a pretty resourceful person, a self taught kind of learner, but I knew that I needed the help of teachers and peers to make my experiences and work richer.
In April 2015 I attended the Radiance Retreat and met four of the women who will be major influencers in my growth this year.  It was one of those life-changing experiences where all the teachers I was looking for appeared in the same room at the same time.  The weekend almost had a surreal feeling and the memories of it now glow in my head.
Since the retreat I've strength trained with Jen Sinkler and JVB in two different groups and am currently working through their killer DIY intro to powerlifting program, Unapologetically Powerful.  Strongrrrr Coaches/Mentors, check.
I wasn't as familiar with Jill Coleman's work before the retreat but after hearing her speak I was hooked on her message of authenticity, consistent hard work, kicking ass and enjoying life.  I knew that I was meant to work with her when I read a caption on her Instagram photo of a big ass salad that said something about dry lettuce leaves and cucumber slices not being a salad, but martyrdom.  YES!  Business Coach/Mentor, check.
And I had been reading and sharing Erin Brown's work since the day I found it so meeting her that weekend was more like putting an energy to an energy.  I knew her face, her name, and her work, so the energy was no surprise, but a relief just the same. Wholehearted Coach/Mentor, check.
Erin takes care of everyone who needs her light at an event like that, so even though I had the urge to monopolize her time for the whole weekend we had one good chat Saturday afternoon, and I tried to help her do her thing for the rest of the time, making sure she always had water or a drink in her hand and remembered to eat, and by encouraging the other women in our group who were a little star struck to just go talk to her.  Warm, empathetic, and approachable, Erin has a way of making people feel seen, heard, and accepted.  And I'm pretty sure we all need some more of that in our lives.
So the conversation we had that Saturday afternoon?  She pulled me aside and basically gave me a wtf Amber?  She told me I came off as so timid in real life compared to my online persona that it surprised her.  I told her I was just introverted.  She challenged me on that and suggested that I might be playing things small because of my body image.
Ouch.
And damn it, she was right.
I was keeping it small because I was conscious of how different my body was than most of the other fitness pros in the room.  I was letting that difference translate into a self talk message of not worthy.  Not in a "oemgee you are disgusting with your body fat" way, but in a "holy crap most of these women are RIPPED and in amazing shape.  They have clearly been working harder at this stuff for longer than me, what could I possibly have to add to this conversation?"
Erin calling attention to my shitty first draft (thanks Brené) forced me to examine what I was actually feeling and be honest with myself about what was going on with Amber.  And when I actually formed the words in my head "what do I have to add here?" I knew she was on to something.
Just by way of that conversation, I made a deliberate shift in my energy for the rest of the event.  I figured eff it, I am here, looking exactly like I do today, and I want to make the most of this experience.  Because I talk and write and coach about choosing self love, vulnerability, and the importance of showing up, and this was exactly the type of situation that I needed to embody it as well. Especially when I feel unsure. Because I feel unsure.
Needless to say, the rest of the retreat was a lot more fun and a lot less anxious.  I connected with other women in a way I rarely do with strangers.  I made friends that I will have for years to come.  And I let my inner disco ball shine in a way that I usually reserve for performance settings.  I got loud.
But I still tend to get quiet at times too, which is ok. My goal for the next while is to keep talking to you either way.
Right now is a quieter time for my online life.  I've taken a break from my private coaching groups and distance training clients to work on my business coaching program with Jill, and to focus my energy on a project with Erin.  She's approached me to start a coaching group with her book, As Is, incorporated into the programming.  Because you know, she just calls me and asks me to do things like that.  NO BIG.
Let me tell you, that phone call blew my mind! I admire Erin's work and believe in her messaging deeply.  She has had an enormous impact on my brain and my voice as a woman, a writer in the fitness space, and as a mother.    It has taken me some time to figure out just how to create this program, honouring her voice and teaching around body image and self worth, while staying true to my passion nurturing and improving the physical health of my clients. I feel incredibly fortunate to be tasked with the work, and extremely excited about the program that is taking shape under my fingers.
Erin and I will be running the group together, me doing the lion share of the nutrition and movement stuff and the day-to-day group admin stuff, her being the resident self-esteem and body image expert. I'm fleshing out the schedule of the lessons and the time frame right now.  I've been trying to make the content fit into a shorter time period, but have realized this week through feedback from my newsletter subscribers that the depth and the breadth of the things we are going to cover will take more time.
One powerful lesson I've learned in the last year is that great good can come from seeking out new perspectives.  No matter how abrupt or painful the shove into that new perspective might be.
We'll be doing some webinars to discuss the big themes we'll be tackling in the new program and some of the strategies we've learned to work through them next month.  Make sure you are on my newsletter list to be the first to get an invite!
Thank you for reading!
xo,
Amber
Google+