It all starts with a decision, and then a step.
It's true isn't it?  All change, no matter how big or small, starts with a decision, and then a step.  And when it comes to moving from a sedentary lifestyle to an active one, the safest first steps with the most impact for your time and effort are, in fact, walking steps. Science says just 20 minutes a day of brisk walking can improve your health considerably.  Just imagine what 30 minutes a day can do!
It's free.
And we can all do it.  Together.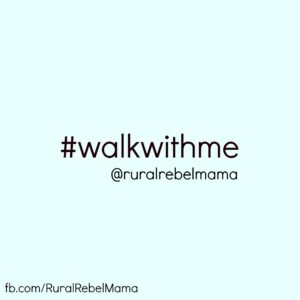 Because even though 20-30 minutes of walking looks different for me than it does for you, it will be the same amount of intention we put toward feeling better each day.   We all deserve 20-30 minutes each day full of intention toward feeling better.
If I'm by myself I'll have tunes in my ears and will be walking briskly, maybe on an incline on my treadmill, maybe outside.  Maybe jogging for a minute here and there, maybe not.  More likely, I'll vacillate between moving at a toddler's pace and moving quickly while holding 75lbs of children who somehow always seem to manage to hitch a ride.  Keeping it real.
Either way, every day for the next four weeks, I will walk for 30 minutes and document my adventures on Instagram (@ruralrebelmama).  And I hope you'll join me using the hashtag #walkwithme
Come to the dark side, we have prizes!
Not only we will spend the last month of Summer 2015 walking toward better health together, I will also be teaming up with local businesses to offer weekly prizes to people who #walkwithme on instagram and on Facebook, and will be offering a grand prize of an entry into my next fitness challenge starting on the Equinox, September 21, 2015.
How to Play
1.  Decide that you want to walk for 20-30 minutes every day for the next 4 weeks starting August 21st, 2015
2. Use your smart phone to snap a shot or two while you are on each walk
3. a) Upload your photo to Instagram tagging me @ruralrebelmama and using the hashtag #walkwithme (if your privacy settings don't allow people to see your photos on IG, you can direct message them to me for an entry each day)
and/or
b) Seek out the daily #walkwithme post on my Facebook page (posted by 9AM Pacific every day) and share your daily photo for an entry
and/or
c) Share your daily photo on twitter tagging me @ruralrebelmama and using the hashtag #walkwithme for an entry
The Fine Print
One photo on each platform per day will count as an entry to the weekly draws and the grand prize draw.  The cutoff time for each day's entries will be 11:59PM Pacific.
Always speak to your doctor before starting a new exercise program.
Google+