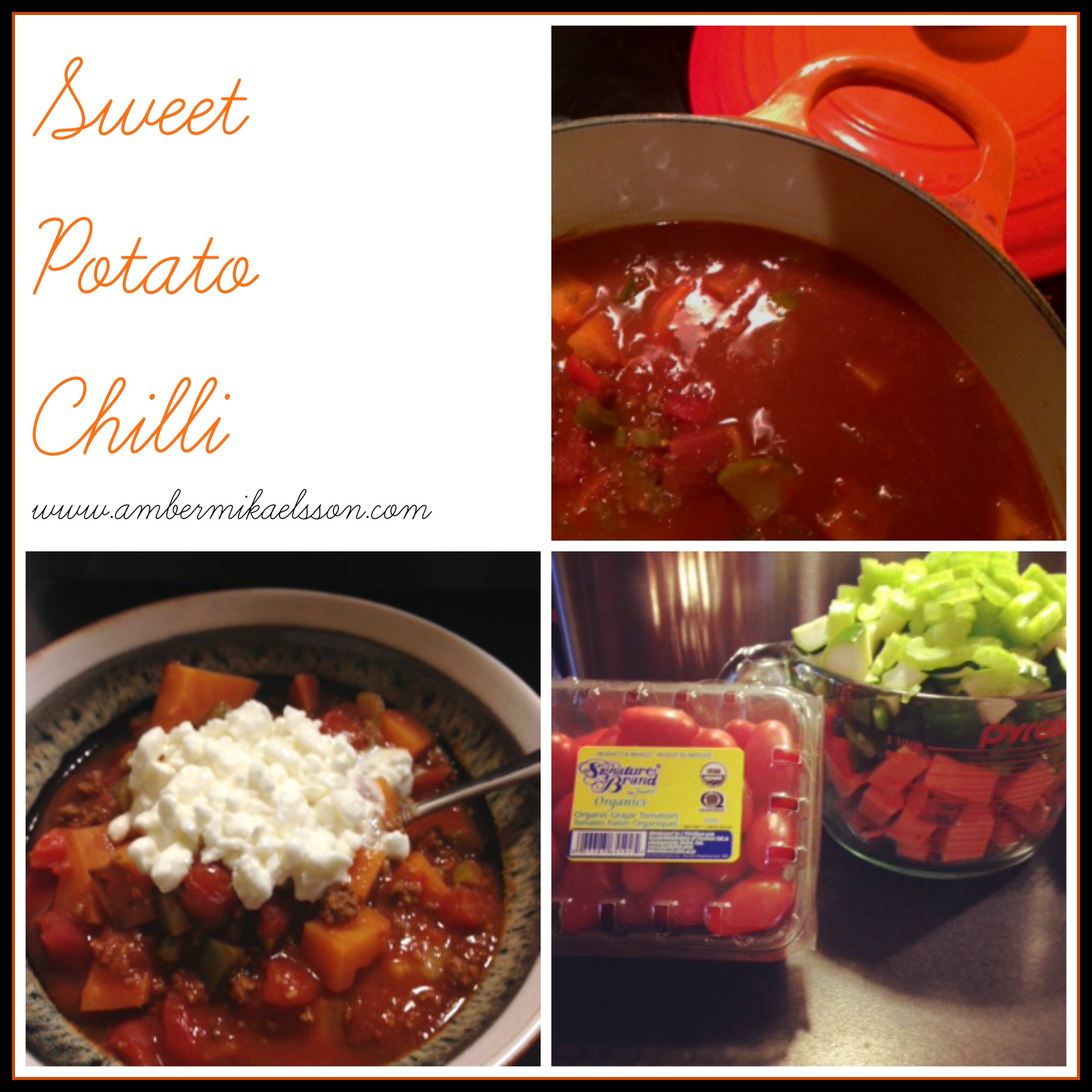 The Sweet Potato Shepherd's Pie recipe has been so popular I thought I would share another sweet potato recipe today. I purposely make it very mild because chilli is easy to add spice to with hot sauce and I want both my kids to be able to eat and enjoy it.  I doused mine in my hot sauce of choice this week, Cholula.
You'll need:
2Tbs Olive Oil
1 small onion – diced
garlic to taste (I used a teaspoon of chopped)
1lb ground meat of choice (I used beef but anything will work)
4 or 5 cups of chopped vegetables of choice (bite sized).  I used half a large sweet potato, a red pepper, a green pepper, one medium zucchini and two celery stalks.  Use veggies you and/or your family enjoy!
1 or 2 cups tomatoes of choice.  I used a quart of grape tomatoes but you could dice up whatever you have on hand or use canned
2 cups water
1 can tomato paste
2Tbs Chilli powder
1/2 tsp Cumin
1/2 tsp Smoked Paprika
Sea salt & pepper to taste
Cilantro and/or cheese to garnish (as you can see I chose cottage cheese for mine but sharp cheddar also works very well)
Heat olive oil on medium high heat for a couple of minutes and then add diced onion and garlic, cook until onion is clear and soft.  Add ground meat and break up into small pieces while browning.  When meat is fully browned add water, tomato paste, spices, stirring occasionally until liquid reaches a boil.  Turn down heat to low and simmer as long as possible, at least 30-60 minutes.  Serve with cheese of choice, avocado, greek yogurt, or sour cream if you want to add some fat.  It's lovely with a cilantro garnish as well.
This is a huge batch of food and will feed 4 people with lots of leftovers.  It freezes well!
Let me know what you think if you try it!
Google+