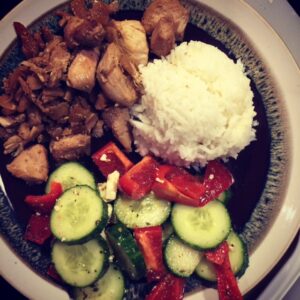 You will need:
4 6oz chicken breasts chopped into bite sized pieces
1/2 cup Moscato or other sweet white
1/3 cup Raw Apple Cider Vinegar
1/3 cup Bragg's Soy Sauce
1/2 cup water
3 Tablespoons Brown Sugar
4 garlic cloves finely chopped
1 tsp ground ginger
1/2 cup water chestnut pieces
1/2 cup bamboo shoots
2 small yellow onions roughly chopped
Salt and pepper to taste
Whisk together wine, vinegar, soy sauce, water, brown sugar, ginger, and garlic in the bottom of cooker.  Add water chestnuts and shoots and stir to coat.  Arrange onion slices to cover the bottom of pan.  Spread chicken pieces on top of onions. Sprinkle liberally with pepper and a little salt.  Cook at high for 4 hours or low for 7-8 hours.  Serve with rice and cucumber salad!
Google+