Making your own sauces is a great way to cut out the sugar and preservatives that are added to store bought sauces while keeping your food fun.  This sauce is AMAZING on ribs, but another favourite way to use it is to add about a cup of sauce and cup of water and pour over a (seared on both sides first) pork roast set on low in the slow cooker all day.  Remove the roast and shred and then add the meat back to the sauce for an fantastic shredded pork lettuce wrap base.  This sauce is also yummy with chicken!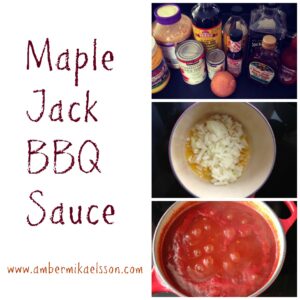 Maple Jack BBQ Sauce
Prep time: 10 minutes Cook time: 60 minutes
You will need:
2TBS Butter or Ghee
1 small yellow onion finely chopped
4 cloves or 1 heaping teaspoon minced garlic
1 cup Jack Daniels
1 can organic tomato sauce
1/3 cup Braggs Apple Cider Vinegar
1/2 cup Maple Syrup
2TBS Bragg's Soy Sauce
2TBS Liquid Smoke (you can leave this out but it does make it "smokier")
2TBS Hot Pepper Sauce (I used Frank's Original)
Directions: Melt ghee or butter over medium high heat in small sauce pan and add garlic and onion, cooking until onion is soft and translucent .  Add Jack Daniels and cook down to half (takes about 10 minutes).  Add remaining ingredients and mix well, bringing to a boil for 5 minutes.  Reduce heat and simmer 30-60 minutes.  You can blend it for a smoother sauce at this point but I leave it chunky.  Store in an airtight jar or container for up to two weeks.
Google+