Today is the day, the Bigness Project is finally for sale for the masses to get massive.
And it is so reasonably priced, $39 for the basics and then a couple of higher price points for a cardio add on and a nutrition protocol. If you've got any interest in building muscle at all, jump on this deal. I absolutely loved the program and the changes to my body and attitude while I did it.
So much in fact, that I'm getting ready to do it again from week 1.
It's a tricky space to navigate sometimes, this intersection I've found myself in between body positivity and fitness. There are people who don't believe that those two concepts belong together, like the idea of loving your body exactly as it is today is somehow contradicted by moving it purposefully because you want to take care of it.
Like coming from love is somehow the wrong kind of motivation.
Like the only reason we should workout is to be less, not more.
Those people are crazy.
And as a tiny voice in a sea of not-good-enough messaging this work feels like an uphill battle sometimes.
But every now and then, I find a beacon of sanity, positivity, and hope for women's strength and empowerment through movement. And it often has Jen Sinkler's name all over it.
The Bigness Project is the first program I've ever tried designed for improving aesthetics, but not focused on fat loss. And I am OBSESSED with my new, rounder, more defined muscles since doing Kourtney's workouts.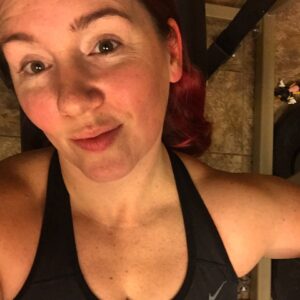 I'm about to start the program over again and am looking for some company. So if you purchase the Bigness Project through my link shoot me an email and let me know you're in. If I get enough interest I'm thinking about opening up a free 14 week Bigness Project accountability group. I won't be doing any coaching (since you know, this isn't my baby and all), but I will be there encouraging and sharing my own progress through my second round of it.
This program is challenging. It's fun. And the results speak for themselves. Let's look like we lift together, shall we?
Join me!
Google+