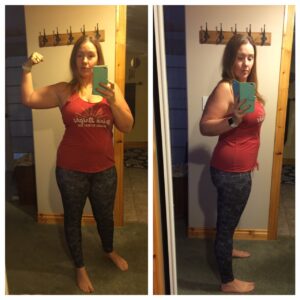 I am:
• A mother
• A partner
• A daughter
• A sister
• A friend
• A writer
• A crocheter
• A crazy pants lover
• An enthusiastic flexer
• A compulsive over-sharer
• A body and self love advocate
I have:
• A juicy booty
• A tummy that sticks out farther than my hip bones
• Meaty, glorious wonder thighs
• Stretch marks
• Cellulite
• Giant boobs (seriously, they are out of hand. Literally.)
• Strong arms that can (and do) carry my ~90lbs of children through life and grocery stores, often at the same time
• An intense love for language
• An intense love for women's health
• An intense love for strength training
• An intense love for food
• Lots of muscle
• Lots of body fat
• A husband who digs my flesh in all its soft and muscly glory
I need:
• Tons of coffee on a daily basis because sleep is hard to come by in my world
• To keep honouring my love for the iron by hitting the (home) gym regularly
• To keep working on my cardiovascular health with my new rower
• To celebrate everything my body can do while continuously pushing it to do more, safely
• To prioritize self care every damn day to feel healthy and sane
I do not need:
• Another diet, ever again.
• Laxative teas
• Detoxes
• Corsets or waist trainers or wraps
• Fat burners/ketones/magical angel fart pills
• To count calories or macros
• A beach body (since I already take this one on the beach whenever possible)
• To feel inadequate for being unable to maintain a level of leanness I once achieved for long enough to take the best after photo ever
• To waste any more of my time mourning my reflection in the mirror
Recently I wrote a newsletter about the ways my body has changed in the last couple of years since I stopped dieting. It was the most well received and responded to newsletter I have ever written.
So many people can relate the ups and downs that come with attempts at body composition change, and the emotional rollercoaster that often accompanies them.
When I started this page I was hyper focused on capturing results in photos each week, and I was going about it in some unhealthy ways. I dropped a lot of weight quickly and was unable to maintain that loss long term when I went back to some of my previous eating habits.
But the love for moving my body stayed. And even though I gained about half of the weight back in the last couple of years I also gained new perspective about the importance and necessity of exercise and nutrition in my life. I stopped looking at self care through the lens of MUST BE SMALLER, and started looking at it through the lens of MUST BE HEALTHY.
I still have my moments. When I don't want to eat another dang vegetable and I just don't feel like cooking a meal from scratch. When I'm exhausted from life and don't want to pound it out in the gym.
The difference between now and three years ago is that I often push through and take care of myself anyway. If I really don't feel like doing a full workout I change into my favourite gear and head down to my gym anyway. Because movement, even just 10 minutes of it, can reset my mood and recharge me for life stuff.
Have you found joyful movement?  Would you like to?  I can show you how in my new program, Move Renew Repeat.
When I don't feel like cooking I'll reach for convenience foods like a salad kit and a store bought rotisserie chicken instead of more processed options, most of the time.
Are these efforts perfect for fat loss? No. But fat loss isn't my goal anymore. Radical self-love is. Self love born of worthiness, NOT longing for skinnier jeans.  Erin Brown's work in her book 'As Is', helped be get there.  Which is why I am so thrilled to be collaborating with her to show you how to find Radical self love too.
Showing my children that being strong is fun, that exercise is an important part of taking care of ourselves, and that eating nutrient dense foods makes us feel good are my priorities now. In short, I am trying to show them, by example, that taking care of my body with movement and food is important to me. Because I love my body, not because I need to fix it.
I'd like to show you how to find this self love too.  I built a whole program that starts next week with this as the goal.
And it's working. My kids love helping me cook and hanging with me while I work out. Yesterday I was strict pressing 55lbs of barbell over my head and my daughter said "WOW MUMMY! THAT'S AMAZING!" And that felt better than any "wow, you are getting so thin" comment ever has.
I always believed that getting to my "after" photo would be the be all end all in my quest for self love, and that everything would fall into place if I could just control my body fat percentage. When I got to that after photo I was happy with the way I looked (mostly), but a lot of other aspects of my life were suffering.
It took some time to figure this stuff out. It took deliberate effort, reframing my thoughts, changing the way I speak to myself and to other people, and a willingness to do better for myself. Erin Brown's book, As Is, was instrumental in the leaps and bounds I have made mentally in the last year. Which is why I am incredibly stoked to be working with her to to bring this program to other women through the same process.
You can click here to learn all the details.
Thank you for reading!
Google+