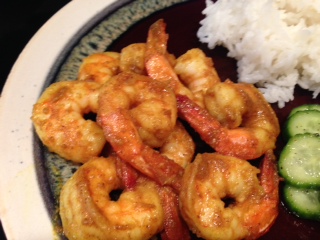 I must confess this is not my recipe, I learned it from my mother in law who learned it from a boater friend, which is why the recipe is named after the first boat that made this shrimp dish for the boater gang.  It is so simple and so delicious it must be shared!  Onward!
Ingredients
1 large package of veined, peeled, raw shrimp
½ cup butter
2Tbs Curry Powder
1Tbs Garlic Powder
Yep, that's it.  I used jumbo shrimp but you can use whichever you like or have.  I cut the butter in half (to ¼ cup) for our dinner pictured above.  I just couldn't fit it in my macros for the day!  It was delicious both ways, I would lean toward the higher butter measurement when serving as an appetizer, and half it for a meal, but that's just me.
You need to thaw the shrimp completely, rinse, pat dry and set aside.  Melt your butter in a skillet on medium high, add the spices, and add your shrimps, cooking until pink (about two minutes a side for my big guys).
As you can see I served mine with cucumber salad and rice.  It is such a simple meal that will be a staple in our home for sure.  Be sure to come back and comment if you try it!
Google+