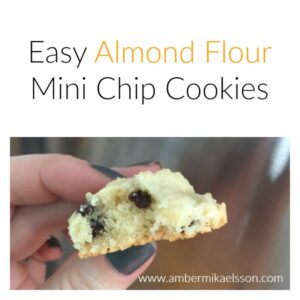 Quick to whip up and just the right amount of savoury and sweet, these are a staple in my house that my kids love.
Ingredients:
3T Softened Butter
2T Softened Coconut Oil
1/3 Cup Maple Syrup
1 Egg
1 Cup Almond Flour
1t Baking Powder
A pinch of salt
1/2 Cup Enjoy Life Mini Chips
Preheat Oven to 350F.  Mix liquid ingredients until smooth.  Add almond flour, salt and baking powder, combining well.  Mix in mini chips.  Use teaspoons to scoop and place cookies.  Bake in preheated 350F oven for 8 minutes.  Yield: 12 small cookies.
Google+