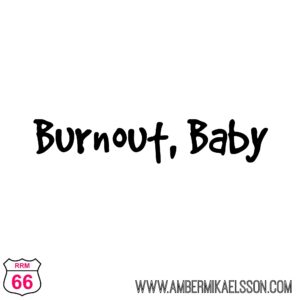 The comparison trap, levelling up, and burning out.  It's beginning to sound a lot like the holidays around here.I have to admit, I still feel like a baby in this industry sometimes.  There is so much I have to learn.  I've managed to surround myself with some of the best in the business in this last year, women who have been in the space for years and have done many impressive things and are experts in their fields.  The leaders.  The innovators.  The teachers.  The movers and shakers and inspirers.And I still have so much to learn.

I have a lot on the go most days.  My number one job seems to get harder as they get older and more active and we all get busy.  The quiet times when they are awake are fewer and farther between and getting shorter as we go.  I don't resent it, this is just my reality right now.  The longest days and the shortest years, right?  I wouldn't trade my life for the world.

With my family responsibilities and taking care of my 20+ clients at a time I don't have a lot of time to create things right now.

But I know it is the creating and the doing and experiencing that leads to the learning I crave.  So I've been seeking out new experiences, networks, coaches, and teachers.  And I've accepted that in order to do the work I need to level-up again, I need to give myself some grace and time to grow.

This journey has changed so much over the last two and a half years.  The first year was all about laser focus on "the plan"; selling someone else's program with every decision I made and every part of me I shared.  I got super lean, that's for sure.  I wasn't the best version of me though, and I didn't particularly like myself.  I wasn't kind to the people most important to me.  And then that whole thing went to shit right around the same time I lost my last pregnancy, and I took some time to grieve both losses and heal before I started picking up the pieces.

I spent the last year trying to figure out what the heck I have to offer other than being able to sell someone else's program.  I focused on expanding my knowledge about fitness, training, nutrition, mindset, body image, self-esteem, and the ways to foster and share it.  I put myself in front of Jen Sinkler, JVB, Neghar, and Jill Coleman as a willing student.  I met Erin Brown, which led to a very exciting project I am working on with her and much more to come in the future.

I found myself a business coach, applied for her program and was accepted.  I start in three weeks.

I also started training physically for strength instead of smallness.  And boy, I am getting STRONG.

And I've realized in all of this that as per usual at this time of year, I'm burning out baby, but it's different this time.  Mostly because I recognize it and have strategies in place to combat it.  Regular workouts being the most important, but I also did some counseling this year and am planning a short upcoming break from my group-coaching program as well.

The marketing cycle of holiday-guilt-induced-dieting is just not sitting right with me this year, so I'm opting out.  I know some of you were looking forward to another round of the RRM 66 starting in January but I've decided to take that month (and possibly February) to work on the new coaching program with Erin, to continue my quest in becoming unapologetically powerful, and to fully absorb the teachings of my new business mentor.  I apologize if this disappoints you and assure you that I am taking this necessary time to be a better coach, trainer, and human.

So, over the next several weeks while a lot of folks in fitness will be sending you subtle and not so subtle messages about you needing to repent for your consumption sins this year, I'll be encouraging you instead to take care of you. Get some extra rest while you have a break from work.  Enjoy your family, traditions, and your favourite parts of the season.  Go for walks.  High five tiny people.  Do things that make you feel good and fill your cup.  You deserve it, I promise.
Google+