I finally unpacked my suitcase from the I Am Power Retreat yesterday, and, in a turn of events that is not exactly ironic, it appears as though I am finally ready to unpack some of the lessons here, too.
Truth time: this retreat and the subsequent crash literally kicked my butt. For the first half of the week home I stood in front of my computer to work and scrolled scrolled scrolled through other people's experiences to avoid looking at my own.
For the second half of the week I accepted that this would not be a super productive week, picked up my crochet project and put some time into making a blanket.
It was the perfect speed for my energy levels.
The crash is pretty typical after big events like this, and I've experienced it in varying degrees since I started seeking them out. This was by far the most dramatic. A week later and I am finally coming up for air.
I literally have dozens of takeaways from this event that are sure to inform some of my work for the near future. Here are three big ones: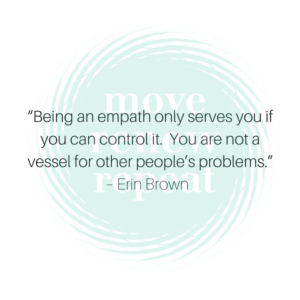 "Being an empath only serves you if you can control it. You are not a vessel for other people's problems." – Erin Brown
As someone who readily identifies as an empath, this insight was jarring at first. I feel like my compassion is a gift that helps me relate to people. What good do I have to offer if I am unable to take a bit of someone's pain when they share their stories with me?
But my logic is faulty. Because we can't take someone else's pain. Ever.
And we do a disservice to the sharer if we don't allow to them to fully experience their feelings.
The most powerful part of any story is that we survived and are right here right now for the telling. Who am I to take that from someone?
While we can't borrow people's pain, it is possible to borrow or channel their power. That doesn't rob anyone's experience, it just gives our own a little boost of empowerment when needed.
My job is to witness, to make space for other people's stories, and to help them see their own glorious selves surviving through it. This lesson will help me be better in my work. Life changing.
You will fight.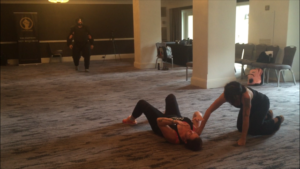 My greatest fear going into the weekend was that I would freeze during the attacker drills. I talked openly with everyone I could about it, and that feeling was a common thread for all of us (with the exception of the alums).
Not one woman froze.
Given the chance, we all fought to rewrite the story we were there to rewrite. I can't even describe the energy in the room.
Our amazing self-dense coaches Jarret and Jennie gave us the tools and stood beside us as we faced our fears. They took turns supporting us because each woman brought a lifetime of feeling to her fights, and it was a lot to handle, even for these seasoned professionals.
They handled over 80 attack scenarios with grace, knowledge, power, and vulnerability. I know I won't be the only woman in the room to be channeling a little Jarret and Jennie in the coming days.
Your body holds onto trauma like an echo. Which means you can release it if you are willing to search for it and lean in.
An addition to the retreat this year was the work of Marcela Widrig, a spiritual, physical, and emotional embodied movement guide. Her work was part meditation, part primal and tribal awakening, part trauma healing, and part expressive/interpretive/blissful dance release.
Our second day together, Marcela guided us through an exercise where we began by picturing a triggering situation from life, and noted where in our body we hold/close in/or expand when thinking about it.
The trigger could be anything: a catcall while walking down the street, a recurring argument with your partner, a call display alert on your phone. Anything that elicited an emotional and physical response in our bodies. Anything that caused a tightening, or expanding, in response.
Then, rather than being guided to breathe through it or picture our happy places we were challenged to expand that feeling.
A lot of my physical emotional response happens in my wrists, hands, shoulders, and gut. Instead of trying to draw energy away from those points when triggered, I directed energy to them. I clenched or expanded as much as possible. Far beyond where it was comfortable, to the point that I was sure I couldn't actually clench one second longer. And then I released it. I came back to the rest of my body calm and grounded.
I may not be doing the practice justice in my explanation, but this is something I've already practiced in my life that continues to work. It's beautiful in its simplicity and exactly the opposite way I typically cope with my anxiety, which usually involves a touch of panic and frantic efforts at trying to ignore the symptoms. Leaning toward rather than away. Who knew?
If you are still down here reading, I have to thank you! As you can probably tell, I've got a lot to say about this experience and I hope you find it helpful too. I would love to tell you more about it or answer any questions you have about it, so please hit reply and reach out if you are curious about anything.  And if you'd like to hear more about my experience at I AM POWER Retreat, make sure you get on my newsletter list here.
Google+